06/04/2013
Antarctic Sun Dispatch for April
Station pulls together for winter-time medical evacuation
Posted May 20, 2013
On Tuesday, April 16,the rumors around the dinner table started humming. The people in Fleet Operations knew they had a meeting first thing in the morning to discuss the white ice runway at Pegasus Airfield 

.
The ice runway? What was there to discuss? The ice runway is supposed to remain buried until August when we normally get our next flight.
The next day it all made sense. One of our community members needed to leave due to a medical emergency, and he needed to leave quickly.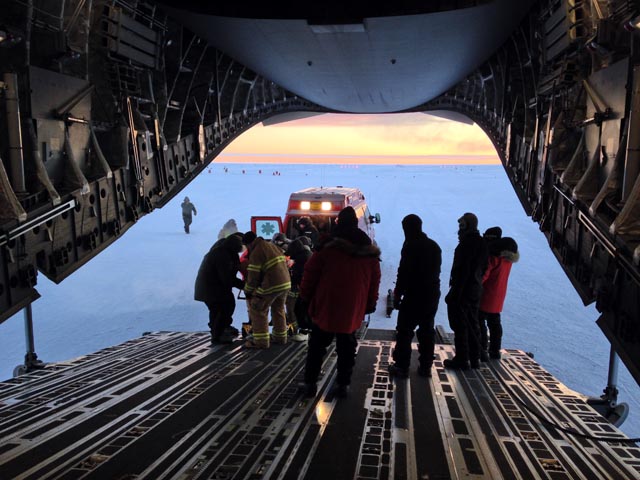 Photo Courtesy: Joint Task Force-Support Forces Antarctica
A C-17 Globemaster III crew from Joint Base Lewis-McChord, Wash., alongside aeromedical evacuation and critical care air transport team members, safely evacuate a patient from McMurdo Station, on April 22.
The ice runway was covered in up to 10 inches of compacted snow. The electricians would need to hook up power; the fuelies would need to build a fuel pit. Other tasks included setting up lights for the runway, heat for the buildings and many other things to ensure the runway was safe for a plane to land at the start of our winter.
For many, their normal 10-hour shift became around-the-clock 12-hour shifts. The galley, once a buzz with rumors of a medevac, was now staying open later to feed those who were working atypical winter hours.
The weather was the only entity in McMurdo Station 

 that did not cooperate with our need to get this runway running. The temperatures were consistently below minus 40 degrees Fahrenheit.
It was projected to take more than a week before the Air Force 

 could land a C-17 Globemaster III 

. Instead, thanks to the hard work of everyone in McMurdo, the plane arrived on Monday, April 22.
Taking only six days to turn a snowfield into an Air Force-ready runway speaks for itself. We are a community dependent only on each other right now, and when our mettle was tested, we came together for one of our own.
And we had to do it all over again in May when a second medical evacuation occurred.
Text posted at 11:48
04/24/2013
Antarctic Sun
I've written a couple of things for the Antarctic Sun. Here's the latest posting. The whole paper can be found here:
Cold weather can't disguise winter at McMurdo Station
Posted April 19, 2013
McMurdo Station 

 didn't have to wait long to feel the chill of Mother Nature as winter got under way last month.
Wind gusts blowing more than 60 knots and temperatures dropping to degrees that would be warm if they were on the plus side, we learned quickly what can be in store for us this winter: Cold, cold and cold, with a seven-month extended weather forecast of cold and blowing winds.
Even if we hadn't read Antarctica for Dummiesbefore coming down here, most of us probably had a faint recollection or inkling that winter at McMurdo would include cold temperatures. No one complained about the cold; the biggest problem with March coming in like a lion was that we haven't had enough time to meet our 143 co-inhabitants of McMurdo.
With the cold weather came face masks, goggles, scarves and our standard issue Big Red parkas. Even if my mother was stationed down here, I would not have been able to distinguish her from Jeremy the Plumber, as they would both be clad in the same attire.
Most people dealt with this inability to recognize people by simply keeping their head down as they ducked in and out of buildings. I just started calling everyone "Mike." There are seven "Mikes" in McMurdo this year. With 5 percent of the population named "Mike," I was only wrong 95 percent of the time. In some aspects of my life, this is a huge improvement.
And, when I was met by a cold stare (likely), then I'd run through the other popular names. There are five guys named "Rob" and four named "David" or "Ray." Throw in a few named "John," "Dan," "Brian," "Jason," "Richard," or "Bill," and now you're saying, "hello," to almost 30 percent of our population.
The women have proven to be a bit more difficult. Only two share the same name: Cynthia. And one insists on being called "Cindy," because that's her name.
The Lion of March quit roaring just in time for us to celebrate Easter. With limited supplies, eggs and costuming, we did the best we could. We decorated beverage cans and it was eggcellent. Though it's a good thing there aren't any kids down here; our bunny lacked cute and cuddly.
Text posted at 09:36
04/13/2013
How To Do Everything
Location. Location. Location. Or, in my case, the setting, I suppose.
The things that I do in Antarctica are pretty similar to what any one else is doing wherever they're living, the only difference is my location.
Last night there was live music in McMurdo, karaoke, dancing and I went to the bathroom.
I can guarantee that somewhere in Virginia, Utah or Nebraska somebody danced, sang Karaoke and then went to the bathroom. The only difference was I did these things in Antarctica and, because of location, location, location one of these topics was interesting enough for me to get interviewed for the podcast "How to do Everything."
I can tell you this much: "How to do Everything" doesn't care how we dance down here nor did they want to hear my version of "Pour Some Sugar on Me." They wanted to know about that toilet that I wrote about a couple of weeks ago.
My interview is at the end of their podcast. Click on this episode to listen:
http://howtodoeverything.org/post/47800926331/how-to-keep-that-guy-behind-you-from-talking-all
Text posted at 11:34
04/08/2013
What Do We Do for Fun?
(photo by Sandwich)
There is a group of 8th graders in Albuquerque, New Mexico who have written letters to me since 2006 asking questions about life in McMurdo. Obviously (I hope) it's not the same group of kids, and that some of them have gone on to bigger and better things like 11th grade.
Over the years, though, their questions seem to have a few things in common: How cold is it? Do I play with penguins? And what do I do for fun.
Then again, there was one student a couple of years ago who wanted to know if I'd seen a Sperm whale. He also asked if I was a Sperm whale. How do you answer a question like that? I answered his question with a riddle: "To your questions re: Sperm. Fifty percent of your questions are true and 50 percent are false. If you're also not flunking math (this assumes from your question you are flunking Biology and Human Anatomy) you may or may not be able answer this problem."
Yeah, there was some fear this young man would be caught in the school library typing "Phil Jacobsen" and "sperm" into Google. Wow, worse fear is that he actually found something. I just typed those three words into Google and found, "Born from sperm on a finger. ….. Phil Jacobsen." Maybe this whale of a tale has more to it than I thought. I'll end this tangent:
Now.
Aside from answering questions from New Mexico, there is always a fine resource of creative people down here, and that leads me to tell you about the Great Beerster Bunny who visited us for Easter.
With eggs in short supply to decorate, we decorated beer cans and the Beerster Bunny hid these around the dorms for us to find. I was not the Beerster Bunny, but I took her head for a quick photo shoot.
Thanks Beerster Bunny. Quack. Quack.
Text posted at 18:03
04/02/2013
You're In for a Wake Up
Here is a photo of my least favorite bathroom at McMurdo Station. This frozen outhouse is located next to the Waste Barn and the Waste Barn is just about geographically the farthest building from the building where I work.
Hold on—let me set the record straight. For those who know the layout of McMurdo, either because you have gone to Google McMurdo Street View or because you work in the Haz Waste building, I do know that the Haz Waste building is farther away from my building than the Waste Barn. I'm only setting this record straight, because it just so happens the only person who, as the lead Pig of the McMurdo Semantic Cops, would comment "No, Phil, actually the Haz Waste building is your geographic polar opposite at this Southerly Polar Outpost" works in the Haz Waste building (Happy Birthday Ben Morin).
Laying out the GPS coordinates of McMurdo is not the point of this post. The point of this post is I do not have a pot to piss in today. Our toilets are broken. This is why, however unappealing it looks to expose my body parts to an ambient temperature of minus 25 (note: a body part that is quite comfortable in its 98.6 package), I had to make the trip to the Waste Barn to dispose of some bodily waste.
I was already at work this morning when my coworker, Zach, arrived and said, "Something smells funny in here."
To me, the office smelled like coffee. Between the hours of 7:30 a.m. and 9:30 a.m., I'm doing my job with a hot cup of coffee near at hand or beneath my nose. What I didn't know was that as I was brewing coffee, percolating up through our frozen pipes and coming out of our sink was all matters of backed up fresh poo and pee.
Turns out, when Zach said, "Smells funny," that was actually a euphemism for "Our office smells like shit."
Indeed it does.
As I mentioned, or as Ben would have pointed out, there are other bathrooms (closer and warmer) than the one at the Waste Barn, but sometimes, just sometimes, you're running from one end of town to the other, and your body says, "It's time to go" even though your mind should say, "You need to wait."
On the plus side, I did learn something from using the Waste Barn bathroom: Forget drinking four cups of coffee, say "goodbye" to the Caffeine IV, the next time I want a true morning 'pick-me-up' here's all I'll have to do (again):
First, (once in the bathroom) take off my gloves, so my hands are good, cold and numb. Second, unzip, unbutton and pull down my three layers of clothing (I unwittingly took off my gloves to latch the metal lock on the bathroom door. By the time I got to the point to reach into my pants my hands were so numb, unzipping my trousers was nearly as complicated as assembling a Rubik's Cube). Third, I tried to find the smartest part of my body—the only body part that actually retreats like a descending thermometer when faced with such harsh temperatures. And, fourthly, do you have any idea how much steam rises when your urine hits a tin funnel? At minus 25 degrees, I was sure surprised. It was like being in a Turkish Steam bath, except in this case, the steam was urine.
Here's to hoping the plumbers fix the frozen pipes in our building soon. Next step: How do I fix my frozen pipe?
Text posted at 14:40